Kindly take note that Pastor Sandra Chin and her team from
Acts Church
, will be giving a seminar related to "Praise & Worship" on
Thursday
,
9th November 2006
, in S.A.C Parish Hall,
8.00 pm
onwards (open to all) and at the same time conducting workshops for the youths on
Friday, 10th November 2006
from
9 am
till
12.30 pm
in S.A.C Parish Hall too.
For those who's not familiar with Pastor Sandra, here's a little introduction on her.
Pastor Sandra Chin
Role: Worship Pastor, Mission Pastor"Ps. Sandra Chin is a Company Secretary by training, and has been involved in the worship ministry for the past 18 years. Currently serving as the Worship and Missions Pastor of ACTS Church, she is an illustrative and down-to-earth teacher. Truly a creative and ardent worship leader, she has led worship in major youth events/conferences including Parousia, Rock 2000, Dream Run 2001, Dream Malaysia 2002 and Christmas @ the Park concerts in Sunway Amphitheatre. She is also a certified instructor with the Focus on the Family's 'No Apologies' programme. "
-extract from The Acts Church.org
You are invited to come and join Pastor Sandra and her team for a dynamic experience especially if you have interests in Praise & Worship. For more information, kindly contact
Janet
or
Uncle Andy
.
And on a lighter note, guess who's back?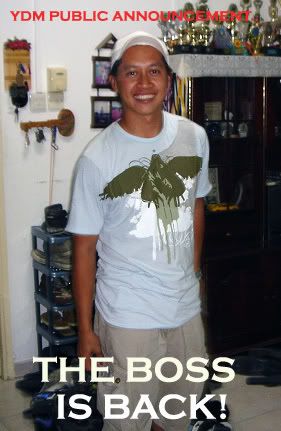 Drop by
YDM
this Saturday to hear Stephen's testimony on what God has done for him over the past few months during his time in South Africa or simply, if you've missed him too much.
In Him